Support for Tribes
Voting is among the best tools you have to participate in the government decisions that affect your community and shape your everyday life.  But just having the right to vote isn't especially useful if you don't have a meaningful opportunity to vote.  Too many Native people today still encounter enormous difficulties in registering to vote and in casting their ballots.
As you probably know, one of the biggest obstacles Native voters face is that their nearest voter registration office, polling place, or ballot drop-box is simply too far away. In each state, local officials decide where to place these services and how many to offer. Counties that overlap with reservations often neglect or out-right refuse to provide voter services in those Native communities.
Pondera County in Montana, for example, denied the Blackfeet Nation's timely request for a polling place on its reservation in advance of the 2020 election. Blackfeet Nation—represented by the Native American Rights Fund—filed suit against the county. Just a few days later, Pondera County agreed to establish a satellite office on the Blackfeet reservation. Tribes and tribal members have overcome similar refusals by counties and local officials in Arizona, Nevada, and elsewhere.
There are actions that voters on reservations can take to counteract these discriminatory policies. If your Native American community needs assistance or information concerning voter registration, polling place locations, absentee voting or vote-by-mail, please contact us at vote@narf.org. Please also check back for state-specific resources and toolkits.
---
Flyer: Native Americans Depend on Ballot Collection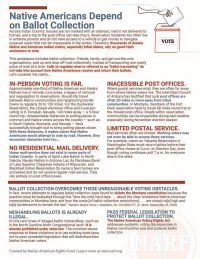 Across Indian Country, houses are not marked with an address, mail is not delivered to homes, and a trip to the post office can take hours. Therefore, thousands of Alaska Native and American Indian voters, especially tribal elders, rely on good faith assistance to vote. This assistance includes ballot collection.
This one-page flyer that helps explain why ballot collection is essential in so many Native American communities and why attempts to regulate ballot collection systemically target Native voters.
---
Flyer: Everyone Should Feel Safe While Voting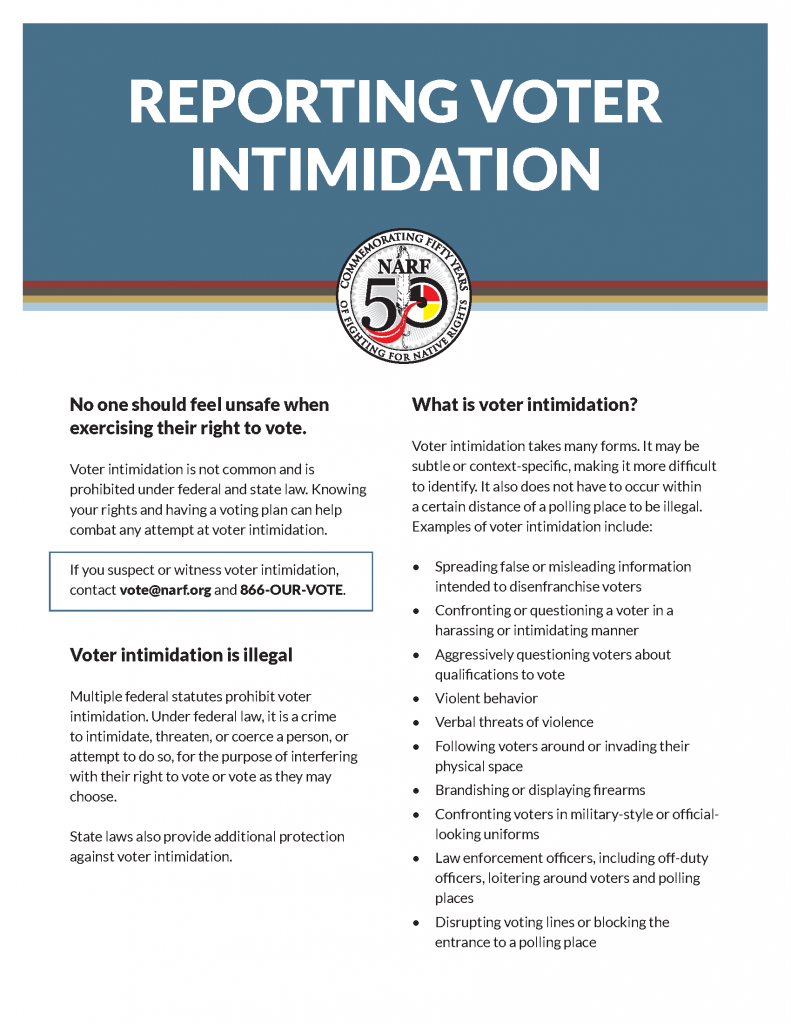 Voter intimidation is not common and is prohibited under federal and state law. Knowing your rights and having a voting plan can help combat any attempt at voter intimidation.
This two-page flyer explains what voter intimidation is and what to do if you encounter it.
---
State-specific voter action toolkits:
(AZ, MI, MN, MT, NV, WI):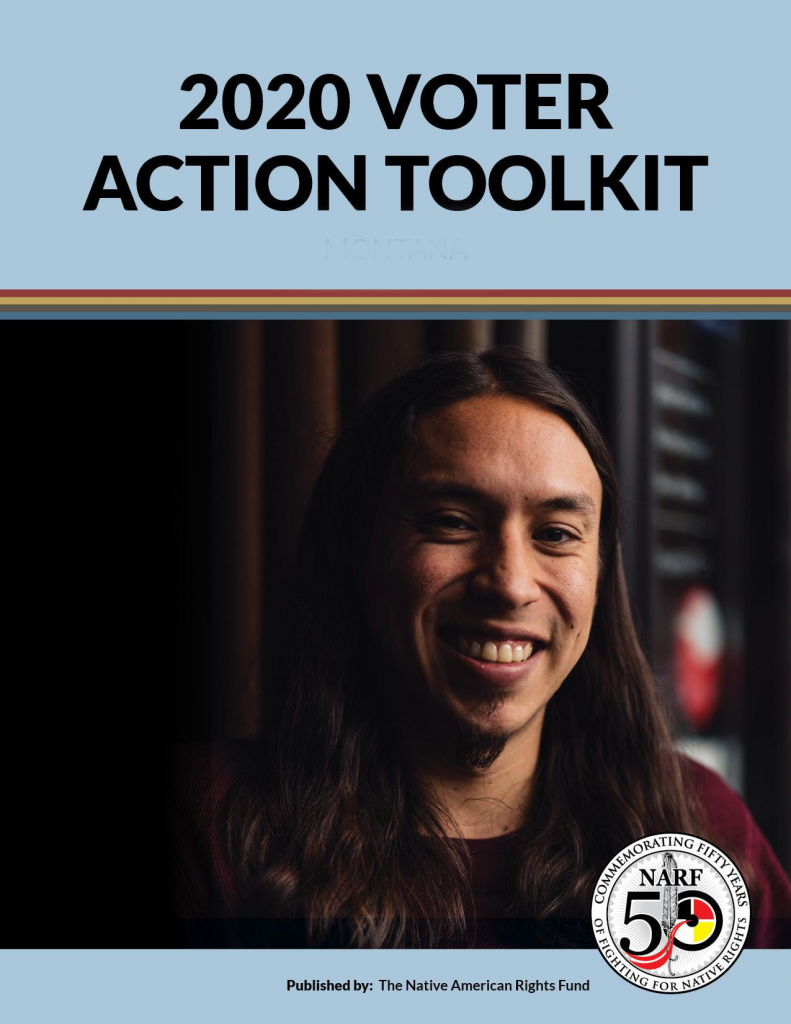 ---
Additional Actions for Tribal Communities:
Issue tribal voter guides with information on how the council will vote. Put the guide on tribe's website, newsletter, polling places. One way to do this is to include a sample ballot with the name "Tribal Council" filled in.
Make voter registration forms available at all points-of-contact with the tribal government.
Contact your Secretary of State and identify polling locations on or near your reservations. Let your community know where those polling locations are.
If you have the resources, engage in an advertising campaign encouraging people to vote.
Make sure that individuals have the information and resources to get the voter identification that they need.
Hold an election day party near polling locations. Be sure to invite voters and non-voters because it is illegal to pay people to vote!
If you have the resources, provide rides/shuttles to the polls.
Issue resolutions encouraging tribal citizens to vote.
Encourage young people to encourage older people to vote. Youth-led movements are very effective. Encourage high school students to talk to their families about the importance of voting.
Reach out to county and state officials to begin a conversation about polling locations.
Request polling locations and drop-boxes in your community. Advertise where any new polling locations will be.
If you are in a vote-by-mail state:
Request a pick-up and drop-off location on your reservation.
Because many individuals on reservations lack their own mailing address, request that a tribal building can be used as a general pick-up /drop-off location.